It's best to eat when you are hungry but if you are ravenous, you may end up overeating. If you are just a little hungry, wait 15 minutes and then eat. Some people eat when they are bored, lonely or sad so if that is why you are eating, take a walk or call a friend instead.
It may seem counterproductive, but eating when you're hungry gives your metabolism consistent work. When you skip meals or ignore hunger pangs, your body assumes a famine is coming and slows down to conserve every calorie. So the next time you do eat, your body burns up fewer of the calories you take in and begins to store fat for the tough times ahead. Instead, listen to your body. When it is legitimately asking for food (as opposed to just looking for something to do), give it some fuel. You're letting your body know that there will always be enough and there's no need to panic.
The sensation of hunger is instinctual. For many people, the first twinge of hunger sends them searching for food, often before they need to eat. Feeling hungry at the start of a meal is good, but eating every time you feel hungry can result in overeating.

You can monitor your appetite and eat accordingly. Before a meal, rate your hunger on a scale of zero to 4:

0 = not hungry
1 = slightly hungry
2 or 3 = moderately hungry
4 = overly hungry, starving.

Your goal should be to eat when you are between 2 and 3. If you're eating at 0 or 1, it may be for an emotional reason (such as anxiety) or a situational reason (seeing a food commercial on TV).

Meanwhile, if your hunger level is 4, you may be vulnerable to overeating and should pay attention to eating slowly. And try not to go for long periods between meals.

A registered dietitian can help you monitor your appetite and eat in quantities and at times that are best for you.
The following are consequences of eating nutritious food when you're hungry:
Our taste buds readjust.
We come to like the taste of nutritious food.
We feel proud of ourselves for eating healthfully.
We gain confidence because we're treating ourselves better.
We lose the urge to binge and we regain our power over food.
We become healthier and more energetic.
We set a good example for others.
We stop eating emotionally as a result of using inquiry to examine our beliefs.
Our body reaches and stabilizes at a healthy weight.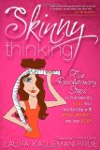 Continue Learning about Healthy Eating Guidelines