A well-balanced breakfast includes foods from at least three out of the five food groups. Whole grain breads and cereals; low-fat dairy products, and fruit are typical breakfast choices. Choosing a high-fiber cereal with low-fat milk or yogurt for breakfast has been linked to improved weight or weight loss. Studies have also shown breakfast that includes a lean protein food and a serving of whole grain may aid in weight loss.
Here are some easy breakfast tips to help balance your breakfast:
Make oatmeal with milk (non- or low-fat) for more protein.
Add cinnamon to oats for sweetness instead of sugar.
If a bowl of cereal leaves you hungry, add 1 hard-boiled egg on the side for additional protein.
Make scrambled eggs with 1 whole egg and 2 or 3 egg whites.
Top cereal or yogurt with nuts if choosing nonfat milk/yogurt. The added fat will help you feel more satiated.
To lightly sweeten plain yogurt, add 1 teaspoon of jam or whole fruit.
Choose a piece of whole fruit instead of juice. Juice adds calories without the benefit of fiber.
If you can't pass on your bagel in the morning, scoop out the inside.
Try "buttering" your bread with 100 percent vegetable oil spread instead of butter. If you're not ready to part with butter, switch to more spreadable whipped butter instead of sticks, and you'll consume less saturated fat.
Switch from regular cream cheese to low-fat cream cheese.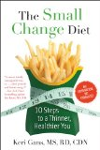 A balanced breakfast should contain:
Whole grains (cereals, bread, English muffins)
Lean dairy (nonfat milk or yogurt, reduced fat cheese)
Fruit (banana, berries, orange juice, etc.)
Try this healthy breakfast combinations:
Whole grain cereal top with skim milk and berries
Wheat toast topped with peanut butter and sliced bananas
Nonfat yogurt parfait made with strawberries and topped with a whole grain cereal A balanced breakfast should have a variety of foods that incorporates al least three different food groups, here are a few examples from each food group. Choose one from each group for a healthy balanced breakfast. The portion of each of the foods should be based on your weight, gender, activity level and/or goals. A dietitian can help you determine how much of each to eat for breakfast.
Dairy/Protein: low-fat or fat-free yogurt, milk, cottage cheese, cheese, egg or egg whites, or even a lean protein like sliced turkey or chicken breast.
Carbs: whole grain toast, cereal, granola, or oats.
Fats: natural nut butters, raw nuts or seeds, avocado, olive oil
Fruit: whole fruit
Continue Learning about Healthy Eating Guidelines