Genital herpes does not spread to other parts of the body most of the time. However, sometimes it does. Other body parts that may be infected include the lining of the brain and spinal cord, the nerves, lymph nodes and skin far from the genital tract. This may show up as headache, fever, muscle aches, problems with urination, irritated skin or painful ulcers. Spread of the infection to other parts of the body is more likely to happen soon after someone becomes infected with the virus, rather than with recurrent outbreaks.
The virus that causes genital herpes, herpes simplex type 2, can sometimes infect other areas of the body. Although uncommon, the herpes simplex virus can enter the skin through a cut in the fingers and cause pain and swelling. A genital infection might move up into your colon, causing difficulties in your gastrointestinal tract. The virus can also infect the brain, which can lead to seizures, disorientation, and even death. People with the skin condition eczema should avoid anyone with a herpes outbreak because it can lead to a serious skin infection.
Continue Learning about Genital Herpes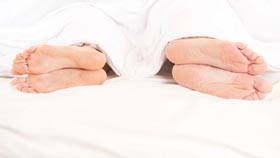 Genital herpes is a sexual transmitted infection that can cause sores or blisters around the genitals. Learn more from our experts about genital herpes.