In a traditional gym setting, your workout attire should be comfortable and allow you to move freely. It is useful to buy fabrics which breath well and keep you cool during exercise. Often health club facilities will have dress codes. If you frequent a gym, check with your local facility and read their clothing policy.
Clothing that is appropriate to your atmosphere would be appropriate. Wearing thermals in 100 degree weather would not be ideal. Clothing such as dri-fit material is always beneficial. Having something that will allow your body to breath is great. Heavy cotton is not going to be the best choice.
For your first foray off the couch, you can throw on whatever cotton T-shirt you have around. As you get serious, however, you want to choose comfortable, skimming workout clothes that are not baggy. Clothes that are loose fitting or too short or tight will make using gym machines or getting on the floor difficult. Don't overdress. If you stay cool, you are more likely to continue exercising. Again, when you are buying these clothes, make sure there are no areas that are rubbing or chafing your skin.

Workout clothes are primarily functional, but a spiffy workout outfit can be part of your strategic plan, and putting it on can be a signal to your mind that you are ready to work out.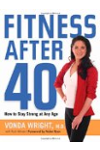 More About this Book
Fitness After 40: How to Stay Strong at Any Age
It's one of the undeniable facts of life. After we reach a certain age, our bodies change. No matter how fit we may have been at 20, we're very different people after 40. But growing older doesn't...
Continue Learning about Fitness Apparel