In the third trimester, prenatal visits become more frequent. In the first part of the third trimester the pregnant woman will be seeing her healthcare provider approximately every 2 weeks. After the 35th week of pregnancy the frequency of visits is increased to weekly.
Your prenatal visits will now occur more often. Starting in your 28th to 32nd week, you will probably see your doctor every two weeks, and then once a week starting at about 36 weeks. In addition to what has been routinely checked, your doctor may do a pelvic exam at about 36 to 37 weeks to check the position of your baby and the condition of your cervix. There are a lot of changes in the last month of pregnancy and it is important that you are seen regularly. Your doctor will be checking for early labor and signs of blood pressure abnormalities.
You will also be tested for Group B Strep at this time. This is a normal vaginal bacteria carried by 25 percent of women. This can cause a serious infection in newborns. If you have a positive culture for this, we will give you antibiotics in labor which will dramatically decrease the baby's risk of infection.
You will want to schedule out until at least 41 weeks because many pregnancies go past the due date. This will allow for you and your doctor to formulate a plan if you go post dates.
Prenatal care in the third trimester is focused on preparing for labor and birth as well as continuing to monitor the well-being of you and your baby. Your visits will become more frequent and, in addition to routine checks, your provider should begin to help you solidify your birth preferences and talk in more depth with you about how you are feeling about labor, birth, and the transition to motherhood.
Around 36 weeks, you will be advised to have a test to determine whether you have Group B streptococcus (GBS), a bacterium that may be living harmlessly in your vagina or rectum. About one in four pregnant women has the bacteria present. The test is performed by swabbing the vagina and the entrance to the rectum. Although harmless when you are pregnant, GBS can cause serious infections in newborns right after birth, and in rare cases in women. If you are a GBS carrier, the chance that your baby will get an infection from GBS is somewhat higher if you are in labor before 37 weeks, you have ruptured membranes for more than eighteen hours, or you have a fever during labor. To protect the baby, the Centers for Disease Control and Prevention (CDC) recommends giving antibiotics during labor to all women who have tested positive for GBS, as well as to women whose GBS status is unknown when preterm rupture of membranes or preterm labor occurs. Just one or two doses of penicillin during labor will decrease the amount of GBS in your vagina at birth. If you are a carrier of GBS, your baby will not be exposed to this bacterium until your membranes have ruptured or you are in labor.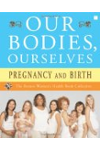 More About this Book
Our Bodies, Ourselves: Pregnancy and Birth
ALL THE INFORMATION YOU NEED TO MAKE WISE DECISIONS ABOUT YOUR PREGNANCY AND THE BIRTH OF YOUR CHILD -- FROM THE EDITORS OF THE CLASSIC "BIBLE OF WOMEN'S HEALTH" Pregnancy and birth are as ordinary...
At 30 weeks, it is recommended to see a doctor every two weeks and by 35 weeks, it is recommended for every week.
Continue Learning about First Prenatal Check-Up