Essential Support for Caregivers
Caregiving may be the hardest job you ever have. Here's how to develop the strength and endurance you need to care for others.
Updated on October 30, 2023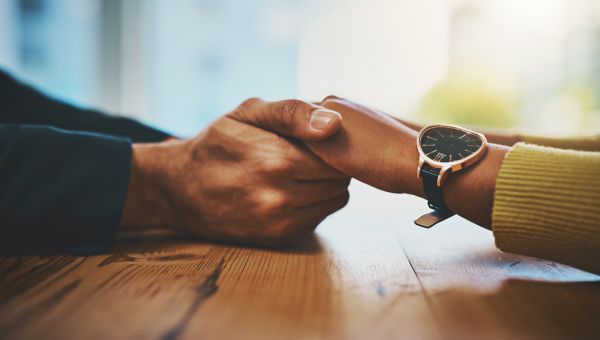 1 / 8
Why Do Caregivers Need Support?
Caring for a loved one with a health condition can be a steep challenge. The work is often physically and emotionally taxing, and it may come with strained finances and family relationships. It's no surprise that even the most dedicated caregivers are often prone to stress and burnout.
Recognizing the demands of caregiving is the first step to helping caregivers perform this essential work with the support they need. Read on for strategies to get help when you need it and to avoid burnout if you are a caregiver. 2 / 8
Watch for Signs of Depression
Leaning on friends or joining a support group can help you cope with everyday caregiver stress. But if depression sets in, you may need more help. An estimated 40 to 70 percent of caregivers show symptoms of depression, with up to half meeting the criteria for a diagnosis of major depression. Symptoms include poor concentration, forgetfulness, sleep problems, changes in appetite, fatigue, excessive drinking, thoughts of death, loss of emotional control, and loss of interest in pleasurable activities.
Depression raises one's risk for heart disease, pain, and other chronic health conditions and can also reduce one's ability to be a good caregiver. Getting professional help is crucial for you and the loved one you're caring for. Effective treatment options for clinical depression include talk therapy and prescription medications. Exercise, stress management, social support, and healthy sleep habits may also be part of an overall depression treatment plan. 3 / 8
Call a Caregiver Family Meeting
To avoid feeling overwhelmed or on your own, it can help to hold regular family meetings. It will take more than one meeting to establish a good caregiving routine, so talk early and often. At meetings, try to focus on current caregiving needs and solutions rather than conflicts. Talk about caregiving in honest, open terms and allow everyone—including your loved one with the health issue—to contribute. Ask your loved one what kind of help they need. Ask other family members what kind of help they can provide and when. Schedule meetings several times a year to keep everyone involved and updated so that the burden of caregiving won't fall too heavily on one person. 4 / 8
Reach Out for Caregiver Support
Many community, religious, and healthcare organizations offer caregiver support groups and services that can make daily challenges less daunting. You can also find online support groups where you can meet others interested in sharing their thoughts, concerns, and questions about caregiving. If you feel you would benefit from more intensive counseling or guidance, talk to your healthcare provider about individual and group therapy options. Some employers also offer counseling benefits to help employees deal with emotional stress. 5 / 8
Take a Caregiver's Vacation
Taking time away from caregiving responsibilities now and then can reduce stress, prevent burnout, and make you a better caregiver. Respite care provides you with a substitute caregiver to take your place when you need a break. In-home respite care, performed by a healthcare professional, can range from simple companionship for your loved one to in-home nursing services.
Another option is an adult daycare center, often located in a local church or community center. Need to get out of town for a few days? Short-term nursing homes can provide care for your loved one while you're away. 6 / 8
Prioritize Healthy Eating and Exercise
Caring for a disabled or sick person can raise your risk of heart disease. Women who cared for a disabled spouse for at least nine hours a week were significantly more at risk of having a heart attack or dying from heart disease compared with women who had no caregiving duties, according to research looking at more than 54,000 women as part of the Nurses' Health Study and published in the American Journal of Preventive Medicine in 2003.
To help reduce your risk of heart disease, eat a diet rich in fruits, vegetables, whole grains, and lean protein and work up a sweat most days of the week. According to the American Heart Association, 30 minutes of intense total body exercise can strengthen your heart and your mind. 7 / 8
Relieve Your Own Stress
One of the most important things you can do for yourself and your loved one is to take time every day to relieve stress. It can be as simple as a 10-minute walk or a long soak in the tub. Not taking time for yourself can make you less productive and can damage your relationship with your loved one.
Hold yourself accountable by scheduling short breaks at times you know your loved one will be sleeping, eating, reading, or watching their favorite TV show. Ask a friend or family member to cover for you if needed. A consistent schedule will help your loved one become accustomed to your timeouts so you'll have the privacy you need to de-stress and relax. 8 / 8
Clear Your Head with Meditation
According to geriatric care expert Shelley Webb, meditation can reduce stress and improve mental health by helping caregivers switch off the worries that plague them throughout the day. Meditation can help quiet your mind and allow you to clear your head of your daily caregiving responsibilities. Benefits of meditation include fewer headaches, lower blood pressure, less pain, and an improvement in stress-related ailments. A healthier you also means your loved one will receive better care. Replay Slideshow
Slideshow sources
Family Caregiver Alliance. Caregiver Statistics: Health, Technology, and Caregiving Resources. 2016.
National Institute on Aging. What Is Respite Care? Content reviewed: May 01, 2017.
Lee, Sunmin, Graham A Colditz, Lisa F Berkman, and Ichiro Kawachi. 2003. Caregiving and Risk of Coronary Heart Disease in U.S. Women. American Journal of Preventive Medicine 24 (2): 113– 19.
National Center for Complementary and Integrative Health. Meditation: In Depth. Last Updated: April 2016.