The death of one fetus in a twin pregnancy can be an unexpected and sad event. But often the health of the remaining fetus is unaffected and the pregnancy will continue to a healthy birth. This is particularly true when the death of a co-twin is early in the pregnancy. But it is also true even when a twin's death happens after the first trimester.

One of the most important factors in situations like this is whether the twins share a single amniotic sac or placenta.

Twins in separate sacs (diamniotic) and with separate placentas (dichorionic) are the most common type of twins. They account for about 75% or more of all twins. In general, these twins have the lowest risks for pregnancy complications.

When twins share an amniotic sac (less than 1% of twins) their umbilical cords can become tangled. This can block blood flow through one or both cords.

Twins that share a placenta (monochorionic) can have connections between their circulations. In this case, the death of one can affect blood flow in the other.

At delivery, the tissue of the twin that died may be visible, although the longer the time between the death and the delivery the more difficult it can be to identify. If some time has passed, the fetal tissue may be thin and flattened against the placenta of the live-born twin. This is called fetus papyraceous.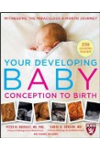 Continue Learning about Pregnancy, Fertility and Childbirth