There are different kinds of seizures, each with different symptoms. Seizures can happen unexpectedly and may include falling, injuries like biting the tongue or losing control of one's urine or stool. Some people who get generalized tonic clonic seizures (also called "grand mal") may lose consciousness and demonstrate stiffness and jerking movements with a period of confusion after the seizure event. Other types of seizures may be more subtle and hard to detect, with symptoms such as not responding and staring for a brief period of time, or shaking in one part of the body like the arm or face. If someone gets recurrent seizures, he or she may be able to identify warning signs before the seizure even occurs, such as unusual tastes, smells, sensations or even out-of-body experiences. Because the signs of a seizure can be variable, if you suspect someone is having a seizure, it is best to get help from a healthcare professional to keep that person safe and healthy.
Seizure signs and symptoms include:
Loss of muscle control with jerking motion of one or many parts of the body
Loss of control of body functions
Can last seconds to minutes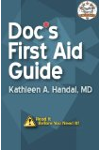 More About this Book
Doc's First Aid Guide: Read It Before You Need It
In a medical emergency, time is of the essence. "Doc's First Aid Guide" is an illustrated, first-aid pocket handbook designed to be used as a quick reference and includes the latest CPR guidelines....
Continue Learning about Epilepsy & Seizures Warning Signs & Symptoms