All moisturizers are not the same, especially for eczema patients. Some moisturizers contain ingredients such as preservatives and fragrances that can be irritating for a patient with eczema. Others don't contain the ingredients needed to help restore moisture and oils in the skin, and therefore may not be effective at managing eczema. The best moisturizers are those that have good emollients and no irritants in them.
Simply using a moisturizer will not prevent your eczema. In fact, using the wrong moisturizer or moisturizing incorrectly might even make it worse. The moisturizer you use should be thick and low in water and alcohol content. It should also be applied directly after you shower while your skin is still moist. This will help lock in moisture and keep your skin from drying out. If you are following these steps and it just isn't helping you might want to try using oil instead. Oils last longer and can be extremely effective at trapping moisture in your skin.


Continue Learning about Eczema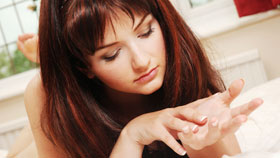 Eczema is a chronic allergic skin disorder that runs in families, resulting in red patches of skin that become extremely dry, itchy and irritated. Learn more about eczema from our experts.