Eczema most commonly affects infants and small children; according to the National Eczema Association, it's estimated that about 90 percent of all eczema patients are diagnosed before they're 5 years old. Some outgrow the disease, but it can persist into childhood and beyond, sometimes even cropping up unexpectedly in adults for the first time.
Continue Learning about Eczema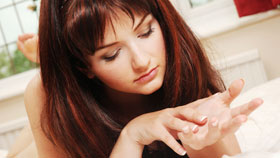 Eczema is a chronic allergic skin disorder that runs in families, resulting in red patches of skin that become extremely dry, itchy and irritated. Learn more about eczema from our experts.