Call your child's doctor if you see these signs of infection:
Increased redness
Pain or swelling of affected area
Drainage or bad smell from affected area
Fever (temperature over 100.4°F)
Symptoms get worse with treatment
If your child gets eczema often or his eczema does not get better, he may need more care by his doctor or a specialist.
Continue Learning about Eczema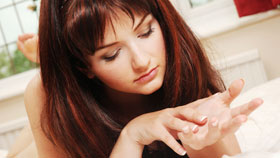 Eczema is a chronic allergic skin disorder that runs in families, resulting in red patches of skin that become extremely dry, itchy and irritated. Learn more about eczema from our experts.