Here are some tips on housekeeping if you have a child with eczema:
Avoid using soaps on the skin -- especially affected areas. Use cleansers such as Cetaphil when possible. Dove Soap, which used to be a fairly allergy-friendly soap, came out with a "hypoallergenic" version, but it contained, of all things, almond oil, which is a terrible thing for a child with allergies.
When doing laundry, avoid using fabric softeners or strong detergents.
Wash clothes a second time without detergents.
Dress your child in cotton clothes and use cotton sheets on her bed.
On very hot days, discourage your child from too much strenuous activity. Sweat, like warm water, will dehydrate the skin when it evaporates, causing a rash we sometime refer to as "prickly heat," particularly in the front of the elbows and on the skin of the throat.
If your infant is already scratching himself, you can slip cotton socks over his hands to keep from scratching.
Keep your baby's fingernails short.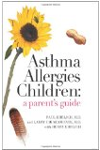 More About this Book
Asthma Allergies Children: A Parent's Guide
Asthma and allergies are at epidemic proportions. It doesn't have to be that way. Two experienced pediatric allergists tell everything a conscientious parent needs to know about these conditions,...
Continue Learning about Eczema