Permanent scars can be a complication of eczema. The dry skin associated with eczema can cause itching and scratching that can damage, break, and scar already sensitive skin. To prevent scarring, avoid rubbing and scratching. Keep fingernails cut short and don't use harsh soaps or products that can irritate your skin. Use only mild cleansers and avoid mesh sponges and abrasive scrubs. Bathe in lukewarm water and apply a moisturizer to lock moisture in and protect the skin from cracking and itching. Consult a dermatologist for more information.
Continue Learning about Eczema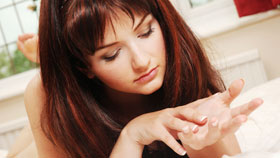 Eczema is a chronic allergic skin disorder that runs in families, resulting in red patches of skin that become extremely dry, itchy and irritated. Learn more about eczema from our experts.