The best time to moisturize your skin if you have atopic eczema is immediately after bathing. A moisturizer works by trapping water in your skin. After taking a short bath with warm -- not hot -- water, apply moisturizer while your skin is still damp. Try to moisturize within a few minutes of finishing your bath or shower. If you use a topical medication, your dermatologist may advise you to apply the medication first, then the moisturizer. You should also moisturize several more times throughout the day. A thick moisturizing cream is usually recommended for people with atopic eczema.
Continue Learning about Eczema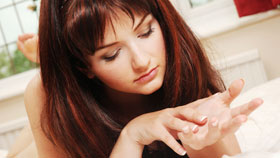 Eczema is a chronic allergic skin disorder that runs in families, resulting in red patches of skin that become extremely dry, itchy and irritated. Learn more about eczema from our experts.