When caring for someone with eczema, make sure that the person is following his/her dermatologist's treatment plan and using all medications as prescribed. Call the dermatologist if you notice any changes in the severity of the eczema. If stress triggers a flare-up, encourage the person you are caring for to make time for relaxing activities.

The most common type of eczema, atopic dermatitis, usually affects children and as a parent or caregiver it is important to have a good understanding of the disease. It is also important to form a good relationship with your child's doctor and become an expert on the treatment plan they lay out. Especially with infants, you'll need to be in charge of your child's daily skin regimen and be largely responsible for identifying the triggers that cause their eczema flare ups. More often than not, your biggest responsibility will be distracting your child from scratching. Adults with eczema can generally manage the disease themselves.
Continue Learning about Eczema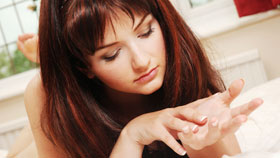 Eczema is a chronic allergic skin disorder that runs in families, resulting in red patches of skin that become extremely dry, itchy and irritated. Learn more about eczema from our experts.