Discoid eczema, also known as nummular dermatitis, is a relatively uncommon skin condition. It occurs most often in men over age 55, though women may develop discoid eczema too. Discoid eczema is rare in children and infants. This condition produces round or oval sores on the skin. The sores may itch or burn. If you have symptoms of discoid eczema, see a dermatologist.

Continue Learning about Eczema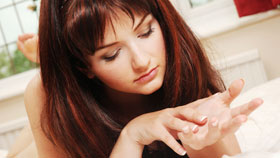 Eczema is a chronic allergic skin disorder that runs in families, resulting in red patches of skin that become extremely dry, itchy and irritated. Learn more about eczema from our experts.