You can care for a child with infantile eczema by learning as much as you can about the condition. Try to determine what triggers an outbreak so you can avoid those substances and, for products that will touch your child's skin, use those that are mild and gentle. Remember to moisturize your child's skin regularly, to help keep it healthy. Understand that your child's skin may become more irritated and itchy at nighttime or during specific seasons. Consult a dermatologist for more information.
Continue Learning about Eczema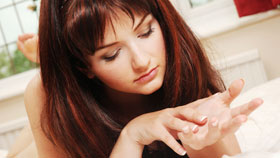 Eczema is a chronic allergic skin disorder that runs in families, resulting in red patches of skin that become extremely dry, itchy and irritated. Learn more about eczema from our experts.