Eczema can become worse when you eat certain foods if the condition is triggered by a food allergy. If you suspect a food allergy is causing your eczema to worsen, speak with your dermatologist. He or she can run tests to find out which foods you are allergic to. It may also be helpful to keep a diary in which you record your daily diet and your eczema flare-ups. Look for a correlation between the two.

If you notice that eating certain foods seems to trigger your eczema, there is a good chance you may have a food allergy. There is a higher occurrence of food allergies in those with eczema, and other atopic diseases, than the rest of the population. Eczema, or dermatitis, was in the past thought to be a reaction caused by food allergy, but now is thought to possibly be a precusor to developing the allergy. Many allergic reactions involve inflammation of the skin and that will undoubtedly make your eczema worse. Foods like milk, eggs, nuts and shellfish are some of the most likely to cause an allergic reaction.
Continue Learning about Eczema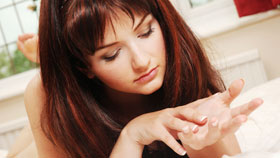 Eczema is a chronic allergic skin disorder that runs in families, resulting in red patches of skin that become extremely dry, itchy and irritated. Learn more about eczema from our experts.