Eczema is not directly caused by an autoimmune disorder, but some forms have been associated with such disorders. Atopic dermatitis, the most common type of eczema, stems from an immune system imbalance. Researchers have determined that people with atopic dermatitis have low levels of a protein needed to promote healthy immune system function. This makes your skin more susceptible to infection and unable to prevent inflammation. Allergic reactions can be considered autoimmune responses because the body reacts against its own tissues, producing itching and rashes. Consult a dermatologist for more information.
Seek a physician's assistance for medical concerns.
Continue Learning about Eczema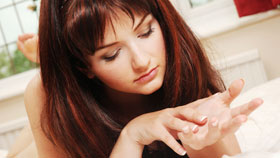 Eczema is a chronic allergic skin disorder that runs in families, resulting in red patches of skin that become extremely dry, itchy and irritated. Learn more about eczema from our experts.