The elimination diet helps to manage eczema by removing the foods that potentially cause symptoms. The foods are removed from the diet and later reintroduced, one at a time, to determine which one is causing a reaction. However, there are serious risks associated with this and violent allergic reactions can occur when the foods are reintroduced. Consult a dermatologist for more information.
Continue Learning about Eczema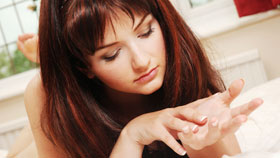 Eczema is a chronic allergic skin disorder that runs in families, resulting in red patches of skin that become extremely dry, itchy and irritated. Learn more about eczema from our experts.