Treating eczema starts with halting the itch-scratch cycle and usually includes a dry-skin care routine. This would entail using very mild cleansers, avoiding washcloths, and being diligent about applying rich moisturizers to the skin while it's still damp right out of the shower. Topical anti-inflammatory such as cortisone creams can also help. Several treatment options are available depending on how bad your particular eczema is, and by your figuring out if there is a specific irritant triggering the condition. Your doctor can help you with this.
From The Mind-Beauty Connection: 9 Days to Less Stress, Gorgeous Skin, and a Whole New You by Amy Wechsler.
Caring for eczema is often focused on reducing the intense itching and dryness associated with the condition. This includes a good daily skin care regimen with the use of mild cleansers and moisturizers to hydrate skin.
Continue Learning about Eczema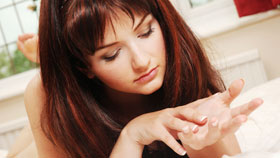 Eczema is a chronic allergic skin disorder that runs in families, resulting in red patches of skin that become extremely dry, itchy and irritated. Learn more about eczema from our experts.