A colorectal surgeon is usually the best choice among specialists who treat perineal abscesses. Perineal refers to the area between the genitals and anus.

There are tiny glands just inside the opening of the anal canal. They are too small to notice, but they can be the origin of an infection. This can lead to an abscess (a small pocket of pus). We don't know why some people get abscesses and others do not.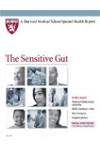 More About this Book
Harvard Medical School The Sensitive Gut
DO YOU EXPERIENCE FREQUENT STOMACHACHES OR EXCESSIVE GAS AFTER EATING? DOES EATING A SIMPLE MEAL LEAVE YOU WITH A FEELING OF HEARTBURN? DO CONSTIPATION AND DIARRHEA PLAGUE YOUR LIFE? If you answered...
Continue Learning about Digestive Health