In this video, Jigneshkumar Patel, MD from Medical Center of Trinity discusses different ways to treat peptic ulcers if they aren't healing as they should.
In many cases, medicines heal ulcers. If a Helicobacter pylori (H. pylori) infection caused your ulcers, you must finish all antibiotics and take any other medicines your doctor prescribes. The infection and ulcers will heal only if you take all medicines as prescribed.
When you have finished your medicines, your doctor will do a breath or stool test to be sure the . H.pylori infection is gone. Sometimes, the . H.pylori germ is still there even after a person has taken all the medicines correctly. If that happens, your doctor will prescribe different antibiotics to get rid of the infection and cure your ulcers.
Rarely, surgery is needed to help ulcers heal. You may need surgery if your ulcers:
Don't heal. Keep coming back. Bleed. Perforate the stomach or duodenal wall. Block food from moving out of the stomach.
Surgery can do the following:
Remove the ulcers. Reduce the amount of acid in your stomach.
This answer is based on the source infromation from the National Institute of Diabetes and Digestive and Kidney Diseases.
Continue Learning about Digestive Health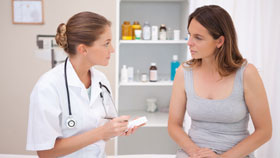 The digestive system includes all parts of the body that process food and expel waste, from your mouth to the end of your digestive tract. Diseases of the gastrointestinal tract prevent your body from effectively using the food yo...
u eat. Learn more about digestive health from our experts.
More