In most cases, esophageal ulcers are treated with drugs, while on rare occasions surgery is needed. Generally, there are two types of drugs that are used to treat peptic ulcers like esophageal ulcers-drugs that fight bacteria and those that control acid. These drugs include:
Antibiotics, which fight the H. pylori bacteria that may be responsible for the ulcer.
Antacids, which neutralize the stomach's acidity, allowing for faster ulcer healing and reducing the painful symptoms of esophageal ulcers.
Proton pump inhibitors, which shut down the stomach acid "pumps."
Acid blockers, which decrease the amount of acid in the affected area.
Luckily, many of the methods doctors use to treat esophageal ulcers are also used to great GERD, a possible cause of these disorders. Drugs like antacids not only reduce ulcer symptoms, but they also are the best method for treating GERD.
Continue Learning about Digestive Health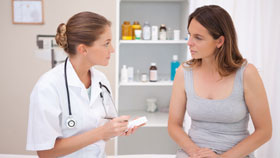 The digestive system includes all parts of the body that process food and expel waste, from your mouth to the end of your digestive tract. Diseases of the gastrointestinal tract prevent your body from effectively using the food yo...
u eat. Learn more about digestive health from our experts.
More