Subconjunctival hemorrhage (blood on the white of the eye, but under the clear mucus membrane called conjunctiva) can come from many causes. In this case, it sounds as though a Valsalva maneuver is the culprit, which occurs when there is a strain such as vomiting, coughing, or sneezing that raises the intrathoracic pressure. The veins in the neck become distended, and the flow of blood from the head is impeded, causing rupture of small blood vessels on the ocular surface. Like a bruise, this will slowly degrade and disappear. While there are many other causes, the history makes this explanation the most plausible one. Use artificial tears every few hours while awake until it clears. Do not rub the eye or use drops to get the red out.

Continue Learning about Digestive Health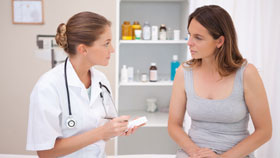 The digestive system includes all parts of the body that process food and expel waste, from your mouth to the end of your digestive tract. Diseases of the gastrointestinal tract prevent your body from effectively using the food yo...
u eat. Learn more about digestive health from our experts.
More