An emergency medicine physician will see you in the emergency room (ER). This physician has completed special training in emergency medicine after finishing medical school. If you are admitted to the hospital for overnight stay from the ER, a hospital physician will see you as well as any specialists who may need to be involved in your care.
The doctor who sees you in the emergency room (ER) is most likely a specialist (board certified) in emergency medicine. They work closely with specialists and will contact your primary care physician, when necessary, in order to give you first-rate care. Board-certified EM doctors have passed a comprehensive exam administered by a certifying Board of Emergency Medicine. My specialty also requires yearly self-assessment tests and recertification every 10 years. Trust me, board-certified EM docs know emergency medicine!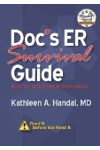 More About this Book
Doc's ER Survival Guide (DocHandal's Guides)
Few people get through life without at least one trip to the emergency room (ER), either as a patient or support person for a family member or friend. Doc's ER Survival Guide is designed to help...
Continue Learning about Critical Care