An increase in muscle mass can lead to both weight gained on the scale as well as a larger appetite. Muscle tissue is metabolically active and requires additional calories to sustain it. This is why it is helpful to weight train and build muscle when you want to lose body fat. Your metabolism will speed up and your body will burn more calories, even when you are not active. This will allow you to eat more and still lose fat. Your body knows that it needs more calories to fuel the additional muscle and will stimulate your appetite so you can adequately supply it with what it needs.
Like a hungry bear before hibernation, it gets hungrier as it gets heavier, and as you gain weight, that weight gain actually promotes a magnification of your appetite, an increase in food cravings, and a reduced sense of satiety when you limit yourself to moderate-calorie food portions. It takes a lot to make the monster feel satisfied. The principal source of this increase in appetite comes about from biochemical and hormonal changes that occur with an increase in internal belly fat (visceral adipose tissue) that occurs as you gain weight. As well, your eating habits, when unhealthy or based on poor food choices, become learned behaviors that form fixed patterns inside your brain, that will drive you to eat excessive amounts of the wrong kinds of foods, and can even evolve into obsessive or addictive behaviors that are very difficult to change.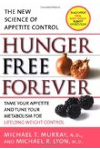 Gaining weight can bring on an increase in appetite for a number of reasons. First off, it can change how your body regulates blood sugar. Many people who gain weight become more insulin resistant, which means their bodies need to produce more insulin to regulate blood sugar after a meal—and excess insulin may increase appetite. Fortunately, losing weight, even a modest amount, through diet and exercise, often improves insulin sensitivity.

What's more, being overweight can affect the body's production of hormone-like substances such as leptin, which help control appetite. Eating foods high in sugar, fat and salt may also make it harder to control appetite.

Continue Learning about Controlling Appetite