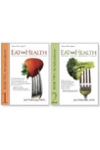 A high-nutrient diet can set you free from your food addictions and allow you to lose your toxic hunger. The food cravings will end and you will be able to stop overeating. Then, you will be back in contact with true hunger. When you achieve that, you will be able to accurately sense the calories you need to maintain your health and lean body.

As you adopt a high-nutrient eating-style, it is common to go through an adjustment period in which you experience fatigue, weakness, lightheadedness, headaches, gas, and other mild symptoms. This generally lasts less than a week. Don't panic or buy into the myth that to get relief you need more heavy or stimulating foods, such as high-protein foods, sweets, or coffee.

The feelings associated with these symptoms are not how true hunger feels. It is our unhealthy tendency to eat without experiencing true hunger that has caused us to become overweight in the first place. To have become overweight, a person's food cravings, recreational eating, and other addictive drives have come into play. Poor nutrition causes these cravings, and nutritional excellence helps normalize or remove them. You will no longer need to overeat when you eat healthfully.