Solidify your ideas and support your intention to heal by talking to friends or family or writing down your plan. Often, discussing plans brings their fruition one step closer.

I think all of us have had a time in our lives where we secretly challenged ourselves to reach a goal but didn't tell anyone about it because saying it would heap more responsibility on our shoulders to make it come true. I've run into this situation countless times, where a client won't dare say they expect to become pain free for fear of not meeting their goal and being disappointed. Even when they become pain free, they still doubt that it will continue. Take the plunge and express your goal or desire to eliminate your pain. Put that responsibility on yourself. Hold yourself accountable for following through with this process of fixing your pain. Come up with a short phrase that affirms your intention, and repeat it throughout the day. "Every day, my body is working better and better" is an empowering statement that will help you keep a positive mental attitude. You can make this statement because it is completely realistic, as opposed to setting an unrealistic goal, like running a three-minute mile.

Your body is not designed to be in chronic pain. Something you are doing or not doing is perpetuating your condition. Commit to yourself by telling your friends and family about your goals. By telling friends and family that you believe you will become pain free, you have already made a shift in your consciousness to believe that it will happen. Say it! Your friends and family will probably offer to help you in any way possible. This would be a good time to ask them to put their hands on your shoulder blades while you move your arms!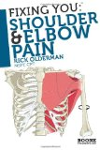 Continue Learning about Chronic Pain