Flavonoids (or bioflavonoids), including about four thousand compounds that are responsible for the colors of fruits and flowers, are believed to have both antioxidant and anti-inflammatory activity. You may read about specific classes of flavonoids, including flavonols, flavones, flavanols, procyanidins, and anthocyanin pigments, and we are learning what each of these compounds do to boost optimal health.
Hosts of experiments on flavonoids found in the soft white skin of citrus fruits (oranges, lemons, grapefruit, and limes) have suggested that these key nutrients increase immune system activation.
Quercetin, the most abundant flavonoid in apples, has been found to modify inflammatory responses by inhibiting the release of prostaglandins, an inflammatory compound that results in pain. Some studies indicate that quercetin may benefit those with gout (a form of arthritis) because it inhibits uric acid production in a similar way as the drug allopurinol.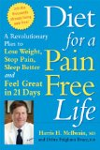 Continue Learning about Chronic Pain Treatment