Deep abdominal breathing actually alters your psychological state, making a painful moment diminish in intensity. Think about how your respiration quickens when you are fearful or in great pain. Then take a deep, slow breath and feel the immediate calming effect, reducing both stress and levels of pain.

Researchers know that the brain makes its own morphinelike pain relievers, called endorphins and enkephalins. These hormones are associated with a happy, positive feeling and can help relay "stop pain" messages throughout your body. During deep abdominal breathing, you will oxygenate your blood, which triggers the release of endorphins, while also decreasing the release of stress hormones and slowing down your heart rate.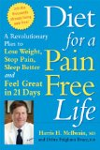 Continue Learning about Chronic Pain Treatment

Treatment for chronic pain is tailored to the characteristics -- cause, location, duration and type of pain, for example -- of your pain. Because of long-term side effects, over-the-counter pain relievers are usually not recommend...
ed. Alternative therapies such as electrical stimulation, acupuncture, meditation and psychotherapy to learn coping skills, stress management and relaxation are all helpful to people with chronic pain.
More