Non aerobic exercise is exercise that is short in duration and does not require oxygen to be accomplished. Examples of non-aerobic exercise include weight lifting, running 100 meters, or climbing a flight of stairs. Non aerobic exercise is typically less than 60 seconds in duration, as opposed to aerobic exercise which is 60 seconds or longer in duration like jogging 5 miles or going for a hike.
Non-aerobic exercise, also known as anaerobic exercise, includes weight lifting, sprinting, and jumping; any exercise that consists of short exertion, high-intensity movement, is an anaerobic exercise. Aerobic exercise means "with oxygen," and includes any type of exercise, typically those performed at moderate levels of intensity for extended periods of time, that maintains an increased heart rate. For example, running a long distance at a moderate pace is an aerobic exercise, but sprinting is not.
Continue Learning about Cardiovascular Training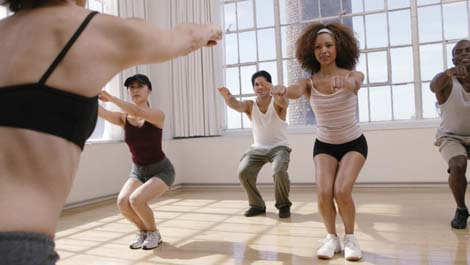 Cardiovascular training improved heart and lung health. Aerobic and anaerobic exercises are the types of exercises done for cardiovascular health. Aim for 30 minutes of cardio every day.