The Oncotype DX test is most useful for women who may not need chemotherapy to treat the breast cancer, such as women who have:
A single tumor small enough to be removed by lumpectomy
No spread of cancer to lymph nodes in the armpit
Cancer cells that test positive for estrogen only receptors
The Oncotype DX test can help predict whether the breast cancer will come back later on. The cells are analyzed for their genetic make up. Specific genes are measured in the sample.
This helps predict whether the woman's cancer is likely to return. When the test suggests that a return risk is high, the doctor will likely suggest additional treatment — often chemotherapy — to help reduce this risk.
Researchers are trying to find other gene tests that can be applied to a wider selection of breast cancer, not only the estrogen positive and negative lymph node ones.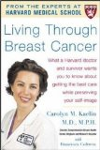 More About this Book
Living Through Breast Cancer - PB
Winner of two prestigious American Medical Writers Association awards A compassionate guide to surviving breast cancer from a doctor who has experienced it from both sides of the stethoscope In...
Continue Learning about Breast Cancer