You may be surprised to learn that you have more time than you think before you make decisions and start treatments. Of course, this depends on the type and stage of your cancer and the guidance you receive from your doctors.
Discovering that you have breast cancer is very upsetting. You have important decisions ahead of you, yet you are probably feeling overwhelmed and helpless. If you find yourself reeling from shock and information overload, it's probably OK to take a little time to process it all. This is definitely better than making a hasty judgment of "Off with my breast!" Doing research on breast cancer is a positive and proactive way of dealing with your disease. Recruit your partner or loved ones as your research assistants so they can be helpful, too.
Most breast cancer cases aren't that urgent, according to many sources such as the National Cancer Institute, the American Cancer Society, and Memorial Sloan-Kettering Cancer Center, a premier cancer facility in New York. You probably have time to learn about your disease and treatment options, as well as find a top oncologist, surgeon, and hospital. In most cases, decisions do not need to be made within a day or two of finding out you have cancer, and taking time to determine the best course of treatment will not affect the outcome of your disease.
Whatever you do, try to put away the terrible burden you feel from a sense of urgency. Confirm the amount of time you have to make a decision with your doctor now, and later with your cancer specialists, too.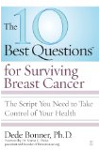 Keep in mind that the goal is to have all the information necessary to make a smart decision, before choosing a treatment plan. That being said, try to meet with a care team and decide on a treatment plan within a few weeks, because it is important to act quickly when fighting cancer.
When it comes to choosing a breast cancer treatment plan, I believe strongly that no patient should start treatment without first seeing both a surgeon and a medical oncologist with experience treating breast cancer. Formerly, many patients would have been sent to a surgeon for surgery, and then referred to a medical or radiation oncologist for further treatment. This is an outdated practice and in the modern treatment of breast cancer, a multidisciplinary approach is the standard of care, and drug therapy can often be the first course of treatment.
As soon as you have all the information you feel you need to understand your situation and the treatment recommendations. Since breast cancer care requires a team effort, with care and support being delivered by physicians from different specialties, we recommend being evaluated by an expert, multidisciplinary team that focuses on Breast Cancer and includes a Medical Oncologist, Radiation Oncologist, Surgical Oncologist, Genetics Counselor and Nurse Oncologist.
It is important for you to know that taking some time to go see a specialized, multidisciplinary team and carefully consider your treatment decisions is more important than getting treated fast.
In the post-operative setting, the literature suggests that the optimal time to begin adjuvant chemotherapy for early-stage breast cancer is up to 12 weeks after definitive surgery (i.e., lumpectomy or mastectomy, and lymph node examination) to remove the breast cancer. This comes from a retrospective analysis of over 2500 patients in a British Columbian Cancer Registry and suggests that a delay of more than 12 weeks may compromise the benefits of chemotherapy toward reducing the risk of recurrence, and promoting overall survival; this was regardless of the size of the original breast cancer, number of lymph nodes positive, age of the patient and other factors (ref: Lohrisch C et al, J Clin Oncol 2006; 24(30): 4888-4894). Most clinical trials testing different chemotherapy regimens which are standard today were designed with this criterion in mind, and it is a guideline which I use in clinical practice. Certainly, other extenuating circumstances are weighted on an individual bases, however, and the benefits of beginning chemotherapy before 12 weeks from surgery are set as a goal for each patient. When breast cancer has spread outside the breast, no obvious guideline exists for time frame except to make a mutual decision based on need for timely response to treatment in order to reduce symptoms from the breast cancer, the presence of infection or other confounding variables, the patient's fitness level, and estimating the ability to deliver full dosage of the treatment.
Continue Learning about Breast Cancer Treatment