Becoming more active can help you stay independent long into your later years. Regular activity is good for your heart and sharpens the mind. It nudges blood pressure down and morale up, eases stress, and keeps off unwanted pounds. Perhaps most importantly, it lessens your risk of dying prematurely.
Regular exercise is one of the most important things you can do for health. Participation in physical activity improves several body functions. These include: weight control, decreased risk of cardiovascular disease, decreased risk of diabetes, reduced risk of cancer, improved strength of bones and muscle, enhanced emotional status, decreases the natural degenerative changes that comes with aging, and increases your chances to live longer.
Regular physical activity increases the blood flow to your body and improves your cardiovascular health and fitness. This will allow more blood and oxygen to get to the body providing energy to do work. In addition, the increased blood flow, more nutrients can be delivered, and more toxins can be removed from skin cells. If the collagen and elastin fibers are nourished properly they should be more resilient to wrinkles.
If you become and remain active, you can add years to your life and life to your years. You can cut your risk of heart disease, stroke, type 2 diabetes, osteoporosis, depression, and perhaps some types cancer. You'll look better, and feel better about yourself. You will have more vitality, you'll think more clearly, and you'll sleep better. And you'll function better and be more productive, creative, and joyful.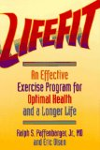 Continue Learning about Benefits of Regular Exercise