Anemia is when there are not enough red blood cells in the body. It can be short-term or chronic, but it is generally easily treated and monitored. If left untreated, the symptoms of anemia will become worse over time. Some of these symptoms are: fatigue, weakness, heart palpitations, shortness of breath or lightheadness. If anemia is not treated, the heart continues to pump harder to get oxygen through the body. As the anemia goes on, the symptoms will continue to get worse. Folic acid can be taken with or without food and has little to no side effects. Iron can cause stomach upset, but taking it with a meal usually helps to reduce this side effect. If you have more concerns about your medication regimen or the anemia, please make an appointment with your doctor to discuss your concerns.
If your anemia goes untreated, it can cause serious complications. When you don't have enough red blood cells, your heart has to work harder. In fact, your heart is working harder even before you have noticeable symptoms. This extra work can lead to a heart problem called LVH (left ventricular hypertrophy), which can cause hospitalization, and sometimes even death. Treating your anemia right away is essential.
Continue Learning about Anemia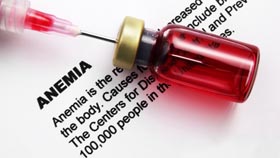 Anemia is the most common blood condition in the U.S. Anemia causes fatigue, weakness and shortness of breath. Although there are more than 400 types of anemia, they all have this same theme.