The usual dose varies depending on your weight and the severity of your acne. First, you need to determine how much you weigh in kilograms, as opposed to pounds. The dose can range from 0.1 to 2 mg/kg, with the most common dose being 0.8 mg/kg/day divided into two -- morning and night. Oral isotretinoin is best absorbed and most effective when taken with food and when taken twice a day.

Your doctor may decide to start you on a lower dose for the first month or two so that you can acclimate to the side effects to at least some extent and then increase the dose for the rest of the 16- to 20-week course of therapy. In some cases, higher doses for longer than 20 weeks may be required for adequate results. In some very severe cases of acne, oral prednisone, a corticosteroid, is also given for 2 to 6 weeks, usually before oral isotretinoin treatment is begun.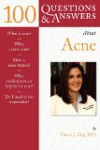 More About this Book
100 Questions & Answers About Acne
100 Questions and Answers About Acne provides you with all the information you need to manage your complexion problems. Written by Dr. Doris J. Day, a world-class expert in the field, this clearly...
Continue Learning about Acne Treatment