Oral contraceptives (OCs) should only be used in women over the age of 16 since in younger women they can suppress growth. The main way OCs work to improve acne is by decreasing androgens such as dehydroepiandrosterone sulfate and free testosterone, and by increasing sex hormone-binding globulin, which binds to testosterone and reduces the amount of free testosterone. In this way OCs help inhibit sebum production, which is one of the main components of acne production. The two main active ingredients in most oral contraceptives are estrogens and progestins. Estrogens are known to reduce sebum production, with some types of estrogens being more potent than others. Progestins can increase the androgenic effect, have no effect on it, or decrease it. Some of the progestins increase the effects of androgens directly or can act as anti-estrogens, blocking the benefits of the estrogen on reducing sebum production.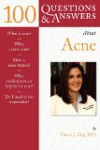 More About this Book
100 Questions & Answers About Acne
100 Questions and Answers About Acne provides you with all the information you need to manage your complexion problems. Written by Dr. Doris J. Day, a world-class expert in the field, this clearly...
Continue Learning about Acne Treatment