The only oral contraceptives that can potentially worsen acne are the ones that contain only progestins instead of a combination of progestin and estrogen. Oral contraceptives containing only progestins include levongestrel and medroxyprogesterone. Acne, hirsutism, and hair loss have been associated with certain progestins.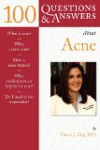 More About this Book
100 Questions & Answers About Acne
100 Questions and Answers About Acne provides you with all the information you need to manage your complexion problems. Written by Dr. Doris J. Day, a world-class expert in the field, this clearly...
Continue Learning about Acne Treatment