I usually recommend that retinoids be initially used every other day or even only once or twice a week to help the skin adapt to the treatment. Depending on how the skin responds, the applications can increase to every other night and then increase slowly to every night as the skin adapts to the medication. It is important to apply the retinoid at night because the sun inactivates the retinoid. Retinoids are commonly used in climates that are constantly sunny, such as California, Arizona, and Florida. I do not recommend stopping the treatment for those planning vacations to sunny climates because the increased sun sensitivity is accumulated anyway. I simply recommend that they be more vigilant about applying sunscreen and other sun protective behavior, such as wearing a hat and trying not to be out in the middle of the day when the sun is at its peak.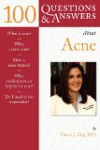 More About this Book
100 Questions & Answers About Acne
100 Questions and Answers About Acne provides you with all the information you need to manage your complexion problems. Written by Dr. Doris J. Day, a world-class expert in the field, this clearly...
Continue Learning about Acne Treatment