The effect of oral isotretinoin, especially in severe nodulocystic acne, can be dramatic. Most cases of severe acne respond to a single 4- to 6-month treatment course. In general, pustules heal more quickly than papules or nodules. Also, lesions on the face, upper arms, and legs tend to respond more quickly than lesions on the back or chest. In some cases, treatment is started at a low dose in order to help the skin get acclimated to the drug before increasing to a higher dose in the months that follow.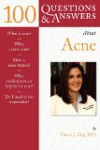 More About this Book
100 Questions & Answers About Acne
100 Questions and Answers About Acne provides you with all the information you need to manage your complexion problems. Written by Dr. Doris J. Day, a world-class expert in the field, this clearly...
Continue Learning about Acne Treatment