For so many people, it seems that acne lesions recur in the same spot or spots every time the pimples come back. This is sometimes on a monthly basis for women, which often coincides with their periods. For others, it seems to occur at random.

When acne recurs regularly in the same spot, there may be several explanations. It may be that there is a weakness of the follicular wall in the spot that keeps breaking out. There may also be local hormonal fluctuations in the skin. Some people touch their skin in the same spot, and that constant touching can also be a factor. Rarely is dirt from contact from a phone or other substance the cause of recurrent acne.

It may be that if the object is left on the skin for long periods of time, occlusion or moisture and irritation may develop; however, acne is not contagious, because the bacteria that causes the inflammatory form of acne is deep at the base of the follicle and is not accessible to the upper layers of the skin from which it might be transferred. There are, however, other types of bacterial infections such as staphylococcal or streptococcal infections that could, at least hypothetically, be transferred and that could cause a rash that mimics acne.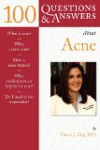 More About this Book
100 Questions & Answers About Acne
100 Questions and Answers About Acne provides you with all the information you need to manage your complexion problems. Written by Dr. Doris J. Day, a world-class expert in the field, this clearly...
Continue Learning about Acne