Acne may be linked to genetics because it appears to run in families. So if one of your parents had it, you may have it too. Although a faulty gene hasn't been found yet, people with acne may inherit certain characteristics that make them more likely to have the condition. A person develops acne when his or her pores become clogged with the oily substance sebum and dead skin cells, where bacteria can thrive. It is possible that something in a person's genetic make-up triggers excess oil production or makes dead skin cells more likely to get trapped inside pores.
Another important factor in both the age of onset of acne and the possible severity and risk of scarring from acne is heredity, or genetics. Researchers believe that the tendency to develop acne, especially severe acne, can be inherited from your parents. For example, studies have shown that many school-age boys with acne have a family history of the condition.

This does not mean that if one or both of your parents had acne, you are necessarily destined to have acne yourself. However, it does indicate that you have a higher chance of getting acne than someone without a family history of acne. It also means that if you do develop acne it should be treated early in its onset before any scarring or long-term effects occur. In families with strong histories of severe acne, it is very helpful to let your dermatologist know the family history and consider very close and regular follow-up of the acne. In these cases, early evaluation and early treatment mean that severe scarring acne can be diagnosed earlier and that the sometimes disfiguring scars can be avoided or at least greatly minimized.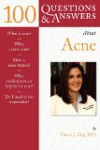 More About this Book
100 Questions & Answers About Acne
100 Questions and Answers About Acne provides you with all the information you need to manage your complexion problems. Written by Dr. Doris J. Day, a world-class expert in the field, this clearly...
Continue Learning about Acne