Many factors can lead to acne flares. Sometimes it can be just the change of seasons or moving from one home to another, from one state to another, or from one job to another. Acne can flare from getting married or getting divorced, from losing a loved one, or from having a myriad of other psychologic issues.
Acne can flare from things we put on our skin (from makeup to moisturizers) and from things that we don't use on our skin (from cleansers to creams). Much overlap exists from one person to another in terms of acne triggers, but it is also amazing how different the triggers can be and how many triggers there are. The following is a list of factors that can cause an acne flare:
Changing hormone levels in adolescent girls and adult women 2 to 7 days before the menstrual period starts
Friction caused by leaning on or rubbing the skin
Pressure from bike helmets, backpacks, or tight collars
Environmental irritants, such as pollution and high humidity
Squeezing or picking at blemishes
Irritation from hard scrubbing of the skin
Occlusive products that block the opening of the pores
Poor skin hygiene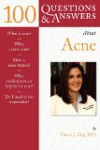 More About this Book
100 Questions & Answers About Acne
100 Questions and Answers About Acne provides you with all the information you need to manage your complexion problems. Written by Dr. Doris J. Day, a world-class expert in the field, this clearly...
Continue Learning about Acne