A pimple starts when the pore around a hair follicle becomes blocked. When your hormones surge in teen years or with pregnancy or menstruation, the elevated hormones stimulate the sebaceous glands, which are attached to hair follicles. Dead skin cells that normally shed from skin can mix with sebum and block the opening of the pore. Bacteria thrive on the excess oil inside the blocked pore, and your body responds by sending cells to kill the bacteria. As a result the pore swells and turns red with a white center -- which we call a pimple.


Dead skin cells contribute to pimples when they mix with skin oil emerging from a hair follicle onto the surface of the skin and form a gluey plug. Watch the animation to see how this happens.



Continue Learning about Acne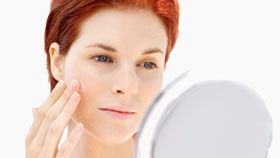 Acne is an inflammatory condition of the skin. Learn from our experts on the difference between whiteheads, blackheads and bumps and how to cope with the stress of acne.