One of the most common acne triggers in women is the menstrual cycle. You may notice breakouts that occur with premenstrual syndrome (PMS) a few days before your period begins. These pimples usually disappear when your period ends. While pimples during PMS can cause emotional distress, they are usually temporary. If you treat your skin condition quickly, the PMS pimples are rarely serious.
Continue Learning about Acne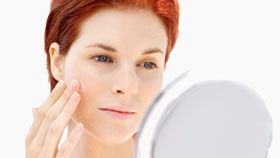 Acne is an inflammatory condition of the skin. Learn from our experts on the difference between whiteheads, blackheads and bumps and how to cope with the stress of acne.