Yes, exercise can affect acne in two ways, one good, and one not so good. Exercise stimulates blood flow which nourishes the skin. Exercise can also help you be in better touch with your body which can lead to healthier eating habits and consumption of less junk food. The down side of exercise is that sweating can promote acne because the sweat mixes with oils and bacteria on the skin causing breakouts. It is important to wash your face when done exercising. This will prevent the bacteria in the sweat from promoting breakouts. If you don't have time for a shower splash a witch hazel based astringent on your face till you can bathe.
Exercise can help to keep acne under control. A vigorous workout causes you to perspire, which unclogs the tiny openings in your skin known as pores. Clogged pores promote acne. Just be sure to wash with soap and water soon after exercising, since lingering sweat on the skin can make acne worse.

Getting regular exercise also helps manage acne by making you feel less stressed out. Psychological stress triggers a release of hormones in the body that can lead to acne breakouts.
It is unclear the exact effect exercise has on bringing out acne in some people. It may be a combination of factors such as increased sweat combined with sticky surface skin cells leading to blockage of the pores, or it may be the heat combined with friction that activates the Propionibacterium acnes (P. acnes) bacteria in some people. It may be that exercise, heat, and sweat lead to increase activity of the sebaceous glands, which are the oil-producing glands in the skin. They are attached to the hair follicles and are especially prominent on the face and upper back. The sebum produced by the sebaceous glands is food for the P. acnes bacteria that also lives at the base of the follicles. The increased food supply may lead to more active P. acnes with the final result of more acne.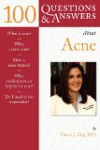 More About this Book
100 Questions & Answers About Acne
100 Questions and Answers About Acne provides you with all the information you need to manage your complexion problems. Written by Dr. Doris J. Day, a world-class expert in the field, this clearly...
Continue Learning about Acne