It is popularly thought that chocolate consumption can produce blemishes and acne. However, after 40 years of studies, research still returns mixed results. Some studies argue that it does, while others say that it doesn't.

One explanation for the uncertainty about the link between chocolate and acne is that acne may be correlated to chocolate consumption, but not caused by it. For example, some evidence suggests that dairy may contribute to facial blemishes. Therefore, the research finding a positive association between acne and chocolate may actually be a reflection of the dairy content in lighter milk chocolates. The bottom line is that the jury is definitely still out at this time.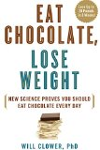 More About this Book
Eat Chocolate, Lose Weight: New Science Proves You Should Eat Chocolate Every Day
Did You Know that People Who Eat Chocolate Every Day Weigh Less than Those Who Don't?Eat Chocolate, Lose Weight is a game-changing look at the world's most surprising (and luscious) health food: chocolate.Based on new groundbreaking research and the amazing results of his clients, who have lost more than 100 pounds, nutritionist and neuroscientist Dr. Will Clower dispels the myth that chocolate is just a "junk food" by revealing how this succulent food contains healthy antioxidants that can actually help you lose weight.All you have to do is take the Chocolate Challenge: an 8-week plan that reveals which type of chocolate is the healthiest and exactly how you should be eating it to maximize all of its surprising health benefits, including:Weight loss of up to 20 pounds in 8 weeksReduced food cravings and appetitePrevention and reversal of diabetesImproved dental healthSignificant improvement in blood pressureEnhanced energy levels (up to 50%!)Increased skin moisture and UV protectionAnd more!With Eat Chocolate, Lose Weight, Dr. Clower is finally bringing his incredibly successful—and delicious—plan to chocolate lovers everywhere!
Foods like chocolate, soda, pizza, potato chips, French fries -- anything that seems bad or forbidden -- usually get blamed for breakouts, but there's barely a lick of evidence showing any of them (or any food) produces pimples.
I'm not convinced that all bad foods lead to pimples; in fact, I don't believe in any food being bad. I will take some of the current theories on the connection between diet and acne with a grain of salt until further research is done. Plus, a blemish usually takes longer to develop, so yesterday's chocolate binge is irrelevant.
Keep in mind that it's tempting to blame food because pimples make us feel out of control of our skin. If we decide chocolate is the culprit, we feel we can regain control if we stop eating it. If you swear you have a trigger food and you feel safer if you avoid it (and thus, it lowers your stress), by all means do.

Personally, I wouldn't give up chocolate! I'd focus on treatment.

From The Mind-Beauty Connection: 9 Days to Less Stress, Gorgeous Skin, and a Whole New You by Amy Wechsler.
Many myths exist about what causes acne. Chocolate and greasy foods are often blamed, but exactly what effect foods seem to have on either the development or the course of acne in most people remains unclear. No studies have been able to show that chocolate affects acne. In a study looking at the possible effects of chocolate, particularly on acne, it was shown that chocolate had no effect on most patients. In a few, it made the acne worse, and in a few others, it made their acne better.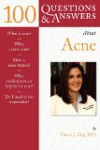 More About this Book
100 Questions & Answers About Acne
100 Questions and Answers About Acne provides you with all the information you need to manage your complexion problems. Written by Dr. Doris J. Day, a world-class expert in the field, this clearly...
Continue Learning about Acne