There is a long list of prescription medications that list acne as a possible side effect. The list includes classes of drugs such as androgens, lithium, potassium iodide, some oral contraceptives, and other medications. This does not mean that you should never take these medications if your physician prescribes them. It does mean that you should discuss your concerns regarding this side effect and consider alternate treatments if available. The acne from medications is generally similar to acne from other causes and is treated with the same medications. The difference is that it may take longer to gain control of the acne.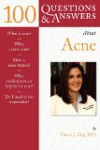 More About this Book
100 Questions & Answers About Acne
100 Questions and Answers About Acne provides you with all the information you need to manage your complexion problems. Written by Dr. Doris J. Day, a world-class expert in the field, this clearly...
Continue Learning about Acne