The diet-acne relationship is controversial, but there is some evidence that foods with a high glycemic index can cause acne. One recent study did show that dark chocolate was associated with a worsening of acne in boys. More studies need to be done to better understand this relationship. While you can't say 100% that bad-for-you food causes breakouts, your mother may not be totally wrong!
Sweets are thought to cause acne, but is chocolate one of them?

Watch the videos to find out from Dr. Oz if eating chocolate causes acne.

[media id="PRD__4d66c0c6ad2fa8_17029209" title="Chocolate Causes Acne"]
Many people blame junk food for their acne, but this is a misconception -- the truth is that acne results from a number of factors, including hormonal changes and genetic predisposition.

The link between nutrition and acne is still controversial, and many medical studies are still to be done on the subject. But this much is scientifically proven: chocolate has gotten a bad rap as the instigator of pimple production. It has been proven that chocolate does not cause or aggravate the condition. The consequences of eating lots of junk food are less clear. Quite a few studies have shown that eating high-fat diets can increase sebaceous output. Other research has found that dairy products set off acne (perhaps by triggering testosterone to activate the sebaceous glands). A recent study published in the Journal of the American Academy of Dermatology found that adolescent boys with acne who ate a diet high in carbohydrates and processed foods showed no improvement in their complexions. The boys put on a healthy diet showed a substantial clearing of their acne. (The bonus: the high-protein, low-glycemic group also lost weight). Apparently, high-glycemic- index carbohydrates (stuff like pizza and cookies that are quickly converted into glucose) raise the blood sugar level, followed by a release of insulin and androgen hormones (the ones that signal the sebaceous glands to go for broke).

So it may make sense to stay away from dairy products such as milk and ice cream, as well as processed foods with a high carbohydrate and sugar content. Sounds like a teenager's worst nightmare. Again, eating in moderation is the key -- if it's possible with chocolate.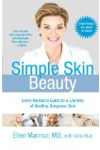 Continue Learning about Acne